I Will Solve Your Relationship Problems. But First Let Me Describe My Eyes. My Eyes are Blue & Resplendant. Now I Will Solve Your Problems.
Subtitle: Variation on a popular theme.
Q: What is the secret reason women are attracted to Jerks and Players?
A: Muscles, guts and facial hair. Being one who is glad to tolerate a vicious pineapple burn any day of the week, my answer is purely physical–Jerks and Players can beat people up and look cool doing it. Guys, imagine you are walking down the street and you're a soft dude writing poems and ka-blamo...Snidely Whiplash with a ripped torso. Not only do we think "tie me to the train-tracks and call me yours, baby"...ladies (if they're like me) are probably thinking of all the ways he could best you in a round of street fighting. It's just embarrassing to be seen with you from that point on. As for facial hair, well, that speaks for itself. Why only players and evil men grow interesting facial hair? No more could i ask the pinot grape, its dellicate conditions...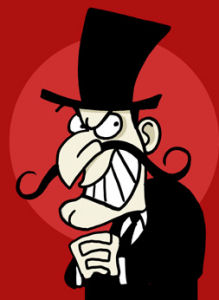 Q: How can I tell if he is "just not into me"?
A: Maybe start with the pancreas. If you've hit duadenum-territory and he's nowhere to be found, you're probably out of luck, dude. Should you be sad? Probably. I'd like to say there's a guy out there for everyone, but honestly ladies: there's only so many to go around. If you want a man immersed in your guts, I'm not gonna lie to you–you're gonna have to start scratching out some eyes.
Q: How can I tell at what point he is really truly committed?
A: He will probably want to pee on you.
Q: Should I read sex advice columns in magazines entitled "How to be Unforgettable in Bed" or "10 Ways to Raise his Pulse In A Way That is Sexy and Does Not Require Medical Attention"?
A: Yes, yes and yes again. Why? Do you really want to risk going through a relationship where your man is just dying to have you stimulate his extremely erogenous eyelids? Most things in life you can wing with gut instinct. But if you've read one of these articles, you know there's no way anyone would guess he wants you to tease his nipples with a mouthful of dangling spaghetti, or taunt him with your hamstrings. You couldn't guess all the things your man wants, if you tried. Also, if you do, I will be all that much more savvy by comparison.